Crawl Space Joist Support
One area that needs your frequent attention is your crawl space. This place may be narrow and very difficult to get into, but your crawl space becomes the central hub for all your electrical wirings and other plumbing fixtures, as well as acts somewhat like a foundation. Because of these, it is in your best interest to keep the area durable, clean, and functional. However, there will come a time when a major disaster will strike, and severely damage your crawl space.
Floods, for example, make everything wet. The soil surrounding your crawl space will soak up all the liquid and become soft. The wooden beams will moisten and experience wood rotting, if not addressed immediately; and the overall surrounding will become damp. In due time, your crawl space will collapse because the walls and ceilings of this area could no longer support the weight above.
If you suspect that your crawl spaces are starting to weaken, do not wait until the damage is too great. We, at My Foundation Repair Pro, offer a swift and easy solution that provides your crawl spaces with joist support.
Find Your Local Foundation Repair Contractors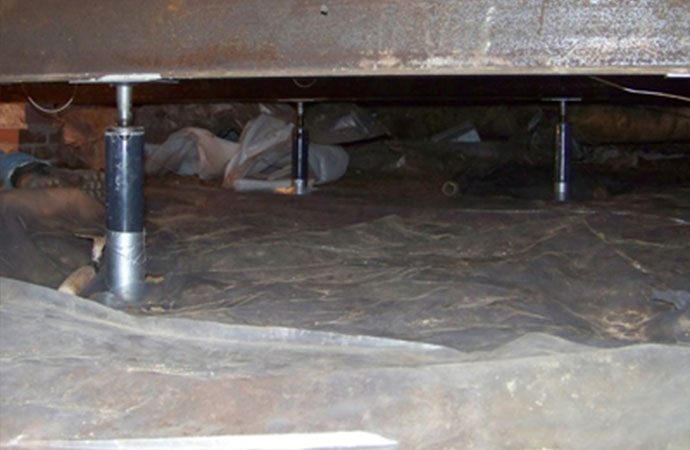 Joist Support Installation Process
Besides flooding, vermin and insects, incorrect spacing, and settlement, can also be the cause of sagging crawl spaces. Whatever situation we face, our experts only utilize the best equipment available, as we all go through a step-by-step process – to ensure that your crawl spaces are fortified.
The process might be complicated to explain thoroughly, but here is a general idea of what we will do:
Step 1:Excavate and prepare the footing base with an engineered fill.
Step 2: Set the precast footing which is then leveled.
Step 3:Galvanized steel piers are cut into the appropriate dimensions.
Step 4:Steel columns are assembled and connected to the beam and floor joists.
Step 5:The supports are tightened into place, lifting the floors above.
Step 6:Install a crawl space liner (optional).
Interested parties can give us a call by dialing: 844-406-0505. We also offer various foundation repairs to both residential and commercial properties. Visit our contact site for further questions and inquiries.