Cracks in Interior or Exterior Bricks
There are various cracks that you may discover in your foundation. Cracks are usually a result of your foundation's response to the changes in soil around your home. While there are some cracks that are not worrisome, most cracks should be checked out by a specialist in order to be sure your home is safe.
The professionals of My Foundation Repair Pros provide the best & most comprehensive interior & exterior brick crack repair services and other foundation repair services in your area. Let our network of professional, independently owned foundation and structural contractors help you in your hour of need. When you need our help, give us a call at 844-406-0505 for more information or you can click here to make an appointment today!
Brick Cracks & Foundation Problems in Your Local Area
Small brick cracks are common and do not indicate foundation problems. That's because brick is naturally prone to expanding. If only a few bricks are affected by fractures, don't worry about it. Deterioration and structural foundation damage is probably not a concern. Of course, large brick cracks in the exterior of your house (or in your concrete slab foundation) can indicate that you need house foundation repair.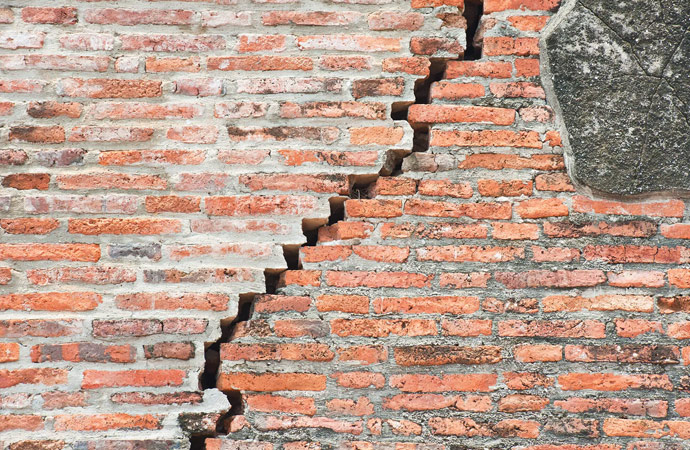 If the cracks in your brick are wider at the top than they are at the bottom, that's not a good sign. You may need cracked foundation repair. That's because these types of crevices often indicate that your house is experiencing foundation movement.
Over time the earth around your foundation moves. This causes cracking to occur in the exterior of brick houses. As a result of the motion, the interiors of homes are also affected. The concrete slab foundation supporting the weight of a home can be seriously impacted, too.
If you see lots of crevices on the outside of your structure, you're probably also noticing wall cracks inside your house. Foundation damage can appear in many forms. You may become aware that your countertops are no longer level. Or, you may see that doors and windows aren't opening or closing the way they should. It's a good idea to learn about the causes of foundation damage. It also pays to monitor any gaps you see in your brick.
Find Your Local Foundation Repair Contractors
Why Choose My Foundation Repair Pros?
My Foundation Repair Pro screens and provides professionals who specialize in foundation waterproofing, crawl space repair, crack repair, finishing, sump pumps, and other foundation issues. These are local companies who have shown a track record of helping homeowners like you, make the basements dry and safe. Whether you have a finished or unfinished basement, we can provide the appropriate professional help in your area, to solve your foundation issues. Contact us today or call us at 844-406-0505 to know further details.