Slab Pier Systems
When the soil beneath a concrete slab shrinks or settles, the slab itself is also likely to settle, often cracking in the process. Slab piers restore stability by connecting the slab to competent soil at greater depth.
Slab piers are not appropriate for supporting foundation walls or repairing damage caused by foundation heave.
Find Your Local Foundation Repair Contractors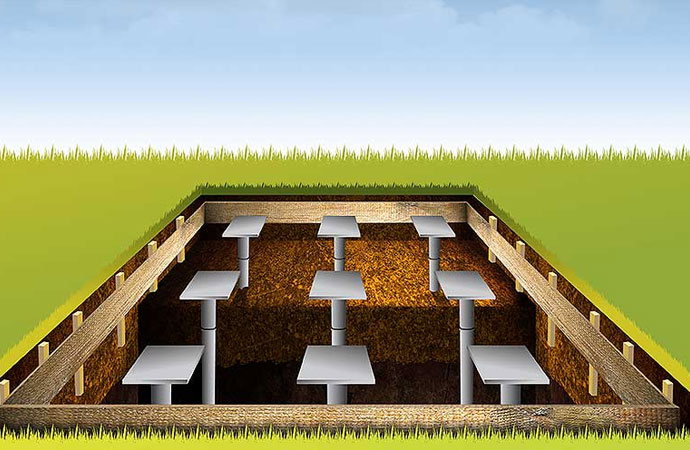 Foundation slab piers are straight steel piers that extend from stable soils deep below the structure to support brackets directly in contact with the underside of the slab.
These piers are meant to support a settling concrete floor, and are not appropriate for foundation wall stabilization.
Slab piers are also inappropriate for repairing heaving foundations, where the floor is being lifted by expansive soils or frost heave.
During installation, a small hole is cored through the concrete floor. A slab bracket is assembled beneath the concrete slab, and steel tubes are hydraulically driven down through this bracket assembly.
When the slab piers have reached competent soils, the weight of the slab is transferred through the piers to load-bearing soils below. If possible, the slab is lifted back to level position.
At the end of the installation, grout is pumped under the slab to fill any voids, and all cored holes in the slab are restored with new concrete for a clean, professional look.
This installation is possible year-round, and provides a permanent solution for your home.