Inspection After a Natural Disaster in Your Area
One of the first major milestones on the road to recovering after a natural disaster is assessing the structural damage to your property. "Some damage will be obvious, but some of it will be less noticeable but can cause problems, just the same," said Gina Peek, Oklahoma State University Cooperative Extension housing and consumer specialist.
Homeowners should wait to approach their property until authorities give the all-clear, then it is important to thoroughly check the entire house, including the roof, foundation, and walls. Regardless of whether there is visible damage to the property, arranging for inspection by a licensed professional is recommended.
Also, document the condition of the property with photos or video and report any damage to the insurance company. My Foundation Repair Pros provides a thorough inspection of your property after a natural disaster, following all the recommended guidelines.
Foundation Inspection Process of My Foundation Repair Pro
The procedure entails performing specific tasks such as looking for foundation cracks, damaged walls and floors, and other signs of trouble. This is done to ensure that your structure is stable and not prone to sinking or cracking. As part of the process, a foundation company representative will meet with you and listen to what you have to say. Next, the contractor will evaluate the exterior of your property. If you have a slab foundation, the process involves walking around the perimeter of your house to look for cracks in your slab, brick veneer, fascia boards, and other things.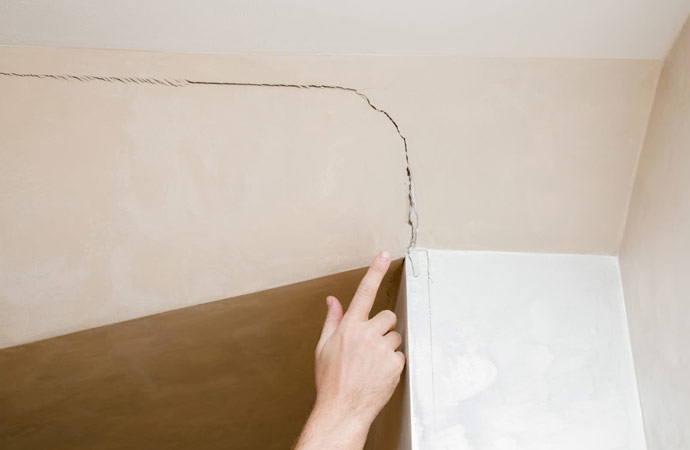 If your house has a pier and beam foundation, the procedure is slightly different from examining a slab foundation. In the event that you have a home constructed using piers and beams, the contractor will enter the crawlspace under your structure and carefully examine it to determine if it's wet or musty. They will check out the condition of your piers, beams, and joists. If any wooden members are wet or rotten, you may have a plumbing or foundation drainage problem that will need to be corrected.
In both cases, the foundation repair contractor will enter your home to check for further damage. During the procedure, he or she will look for cracks in floors, walls, and ceilings and take measurements to determine how out of level your foundation is. The contractor will be able to tell if certain parts of your home are 1" lower than others, or even as much as 6" lower.
Once the contractor has completed this process, he will speak with you regarding your foundation inspection and make recommendations about where foundation piers should be installed. It is common to find that foundation repair is not needed. That's because some cracks are cosmetic and do not need to be fixed.
Find Your Local Foundation Repair Contractors
Why Choose My Foundation Repair Pros?
My Foundation Repair Pros screens and provides professionals who specialize in foundation waterproofing, crawl space repair, crack repair, finishing, sump pumps, and other foundation issues. These are local companies who have shown a track record of helping homeowners like you, make the basements dry and safe. Whether you have a finished or unfinished basement, we can provide the appropriate professional help in your area, to solve your foundation issues. Contact us today or call us at 844-406-0505 to know further details.