Push Pier Installation Services
Having a stable structure to live in has become one of the most sought after elements when it comes to finding a good building. Majority of property owners would agree that living in a building that is able to support the weight of the residents and their contents does not only make their life easier, but also gives their property a longer lifespan. However, not all structures are built to last forever. There are numerous factors that will severely damage the interior and/or exterior – natural or manmade. Sometimes, even time has become the building's enemy because without properly maintaining its structure, its materials will age and lose their strength, which causes a home to sink.
Find Your Local Foundation Repair Contractors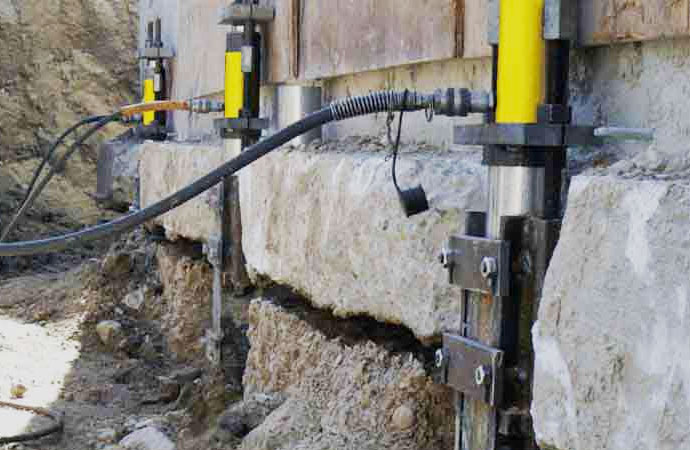 When a building begins to sink, the initial signs are not quite visible; but when given the opportunity to grow and spread, damage such as cracks on your walls, capsized grounds, and the like are not that far behind. Moreover, rooms such as your basements will become hazardous, making them utterly unusable. Although sinking might seem like an impossible situation to fix, we, at My Foundation Repair Pro Team, and our renowned Push Pier Systems, will definitely raise both residential and commercial properties from their sinking woes.
With the various causes of foundation problems homeowners face today, we understand that our clients would much prefer that their structures are repaired without having to interfere with the exterior landscaping of their home. Thankfully, by choosing the Push Pier System, not only would your homes be lifted from that sinking feeling, but our professional team will do the job without having to disturb your precious yard. Using galvanized steel (to prevent corrosion) and heavy duty brackets (to keep your homes from sinking), you will be assured that your structures will no longer descend through the ground.
Here, at My Foundation Repair Pro Team, we only work with best. Whenever we start any project, we make sure that we first find the foundation problems so that we can assess which method we should use, to rightfully correct the situation. Also, with our help, you will be experiencing the benefits of a repaired foundation in no time. Interested? Give us a call at: 844-406-0505 or visit our contact My Foundation Repair Pro Team page for a free inspection today!