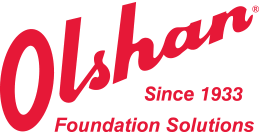 Olshan Foundation Repair Company of Houston, LLC
"Established in Houston, TX in 1933, Olshan Foundation Repair has proudly served the greater Houston area for over 85 years. As an A+ BBB Rated service provider, we offer foundation repair, home elevation, crawl space recovery, exterior water management, under slab plumbing, concrete leveling, crack repair and tilt-wall repair. Estimates are free to homeowners. We also offer Commercial & Industrial services. Convenient payment plans are available. Services backed by available warranty programs. We are a proud partner of Houston Astros baseball. When it comes to structural solutions here in Houston, there's Only Olshan."
Some companies measure their experience in years. We measure ours by generations. With over 87 Years of experience repairing foundations in Houston, TX – Olshan offers technologically advanced foundation solutions that work for you and your home.
We stand by our work. Repairs are backed by available warranty programs and ongoing customer support.
Put Olshan's reputation for integrity, honesty and quality craftsmanship to work for you. Schedule a free structural assessment now.
Olshan's Patented Slab Foundation Repair Technology
Our solutions are built to withstand the test of time. Olshan offers the exclusive Cable Lock ST Plus system (U.S. Patent #8,500,368). This innovative foundation support system combines the durability of concrete pilings with the strength of steel and is used to repair both foundations and elevate homes above flood hazards.
Cable Lock ST Plus offers significant improvements in the quality of installation, cost-efficiency and long term reliability when compared to outdated foundation repair methods. While most companies still use concrete pilings or steel pilings, the innovative foundation specialists at Olshan have determined a combination of both technologies can provide a stronger, better, and more reliable repair.
Although Cable Lock ST Plus is the most popular solution we offer in Houston, we also offer a variety of different piling types, as well as foundation lifting (an effective alternative to mudjacking) using a two-part Polyurethane mixture. This allows use to fix structural problems of any type – both residential and commercial.
What is the Cost of Foundation Repair in Houston, TX
foundation repair piling installation
One of the most common questions we receive comes from homeowners looking for an exact quote to repair their foundation. Since no two homes are built exactly the same, there isn't a one-size-fits-all answer.
The truth is, foundation repair pricing can vary drastically in Houston, depending on the size and build of the home, severity of the damage, environmental factors, and the personal goals of the homeowner.
For many fortunate, quick-acting homeowners, simple preventative maintenance and/or drainage products can help keep costs well under $3,000.
However, for serious damage; you may be looking at thousands of dollars for repairs. According to HomeAdvisor, a popular home service website, the average foundation repair cost for jobs completed in Houston, TX falls between $3,070 and $6,520 or $4,764 on average.
Potential home-buyers should also be aware of the possibility of existing and potential structural problems when purchasing a new home. If foundation repair was performed on the home in the past, it's important to transfer any existing warranty under your name. It can also be a good idea to consult with a Structural Engineer before finalizing a purchase agreement for a new home.
Need an exact quote fast? There's no need to reach for your wallet. Olshan Certified Structural Technicians offer comprehensive foundation repair pricing, free of charge to existing homeowners.
Damaged Driveway or Sidewalk? We Fix Sunken Concrete FAST
repaired sidewalkCracked sidewalks, uneven driveways and damaged garage floors aren't just unsightly, they're also a safety hazard.
Due to the climate and soil conditions of Houston, sunken or cracked concrete damage is common.
During rainy seasons, the soil expands causing concrete work to heave or crack. During dry seasons, the soil shrinks, resulting in gaps between the earth and concrete structure, leading to structural damage.
Fortunately, concrete replacement can usually be avoided.
At Olshan, we offer PolyLift™, an affordable alternative to concrete replacement. PolyLift™ helps restore your concrete structure to near an as-built elevation. PolyLift™is clean, economical, and effective, and can usually be completed in just a few hours.
---
Customer Reviews for Olshan Foundation Repair Company of Houston, LLC
(5.00 out of 5) -
2 reviews
Areas Served by Olshan Foundation Repair Company of Houston, LLC