Exterior Stair Step Brick Cracks
The presence of stair-step crack in the brick indicates that the foundation is in need of repair. It is common for brick walls to have fractures like these in the mortar joints. Interior wall cracking is commonly observed to have the same stair-step crack pattern as outside walls. A similar fissure may frequently be seen on the opposite wall.
If stair-step cracks in brick walls reach the bottom, they often continue down to their base on top of a block foundation, and then through that foundation until they reach the footing.
If you see these cracks in the wall, it means that a piece of it has settled more quickly or more slowly than the rest. To avoid further settling and symptoms such as sloping or sunken floors, bowed walls, and misaligned entrances, it's critical to get this problem corrected as soon as possible.
You may get aid from Foundation Repair Pros to identify the finest foundation repair contractors if you have an exterior stair step brick crack and need to fix your house's foundation. The safety, security, and longevity of your foundation are of utmost importance to us, and we'll do all we can to ensure they're met by our team of expert contractors. Please contact us at 844-406-0505 if you have any questions, or you can click here to locate a local contractor in your area.
Causes of Stair-Step Cracks?
Moisture problems or excessive pressure on a specific portion of the wall are typically to blame. This might be due to clogged gutters or a problem with the drainage system. As a result, your home's foundation is not being properly drained of moisture. Instead, the dirt surrounding your house's foundation is being accumulated and expanded. As an outcome, there is a lot of pressure.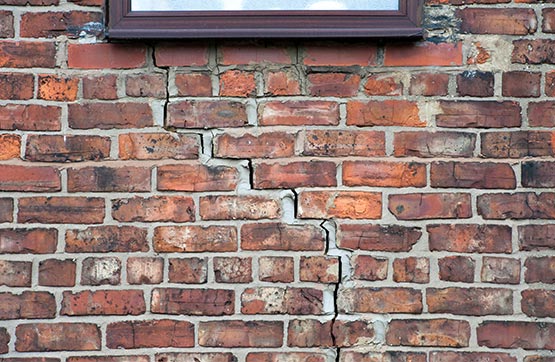 Find Your Local Foundation Repair Contractors