Structural Wall Repair Due to Soil Pressure
Basement and other foundation walls can sometimes be damaged by soil pressure. In some cases, the weight of the soil is simply too great to be held back by the foundation wall. In other cases, soil with high clay content expands during wet weather, exerting extra pressure against foundation walls.
Whatever the cause, there are several telltale signs of foundation wall damage:
Tilting: The top of the wall is being pushed inward by soil pressure
Bowing: Only part of the wall has weakened and is being pushed inward.
Wall cracks: Cracks typically appear when a wall tilts or bows. If the foundation wall (or retaining wall) is made from concrete block, cracking will often occur along joint lines between individual blocks.
Find Your Local Foundation Repair Contractors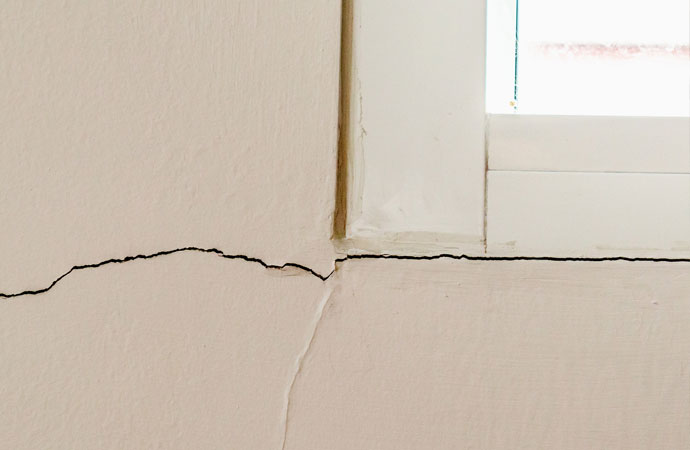 Foundation and Structural Repair Experts
You don't need to be an expert to know that foundation wall damage is likely to worsen over time. Walls that have cracked also increase the likelihood of unwanted water in your basement or crawl space. For these reasons, it's smart to act quickly if you see signs of foundation wall damage.
It's also important to enlist the services of a foundation repair specialist. Unlike general home repair contractors, foundation repair contractors concentrate on this single area of building repair. Foundation repair specialists in the Foundation Repair Pros have access to special training, tools and materials for all kinds of foundation repair work.
Basement and Foundation Wall Repair Methods
There are several common basement wall repair methods available, and our experts will explain them all to you, so that you can choose the system that will work best in your home.
Some common basement wall repair methods include wall anchors, I-beams or wall reinforcement beams, carbon fiber straps, and helical anchors. Each of these options can be an effective basement wall repair solution, which is why it is important that you have an inspection done by a well-trained foundation repair contractor that will recommend the right solution for the situation in your home.