Concrete Pier Foundation Repair
Your house will be more robust and stable if it has a solid foundation. The foundation carries the weight of your home, and its structural integrity may be preserved by making sure it is solid and in place. A sturdy foundation is the most effective way to prevent damage to your house and protect your family from adverse weather. Piers are essential when it comes to securing your foundation and strengthening it. Foundation piers are pieces of wood installed beneath your foundation to help support or elevate your home if it is sinking. Once erected, the piers provide long-term support and stability to your property.
Concrete is heavy and robust, making it an excellent foundation restoration material. Concrete pier structural supports are advantageous because they can hold significant weight. Contact the contractors of Foundation Repair Pros when you need such crucial service as we have the most experienced and trained professionals. Find your local contractors here. Call us at 844-406-0505 to know more!
Find Your Local Foundation Repair Contractors
Why Should You Choose Concrete Piers?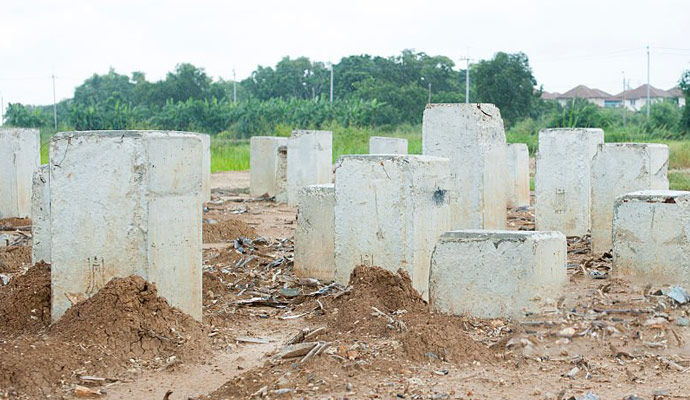 There are many reasons to choose concrete piers as your foundation repairing technic. Here are a few that may intrigue you to opt for it:
Stable- The piers must be forced to the point of failure to repair a failing foundation. Although skilled builders typically install both steel and concrete piers appropriately, difficulties might occur if one or more steel piers aren't driven down to a suitable soil-bearing stratum. Steel piers can slide if they don't reach an appropriate bearing stratum, causing further foundation problems that will require repairs. Concrete piers are far heavier than steel piers and can support the entire structure.
Durable- Concrete piers are more durable. Steel piers corrode with time, according to National Bureau of Standards studies. While rust may not impact the strength and durability of steel piers buried in the ground right once, it might go unnoticed until severe damage occurs. This may compromise the structural integrity of your home.
Cost-effective- Concrete piers are more cost-effective options. Steel is far more expensive to make than concrete. Furthermore, the equipment required to build steel piers is more costly than to create concrete piers.
Make no compromises when it comes to foundation repair since the safety of your house is dependent on the strength of your foundation. You should always depend on competent professionals for such a sensitive and critical task. Foundation Repair Pros can put you in touch with the area's best foundation repair contractors.
Find a contractor in your area for foundation stabilization services like push pier system, slab pier system, helical pier system, and many more services right now. Call us at 844-406-0505 for more information!