Garage Floor Sealing Services in My Area
Contact My Foundation Repair Pros today to have the most effective garage floor sealing services in your area. Adding an epoxy coating to your garage floor offers a wealth of benefits. This long-lasting coating can be painted on quickly by our professional team and give you good looks, safety, and durability for years.
Reasons to Seal Garage Floors
A few of the top reasons to consider adding an epoxy coating to the floor in your garage: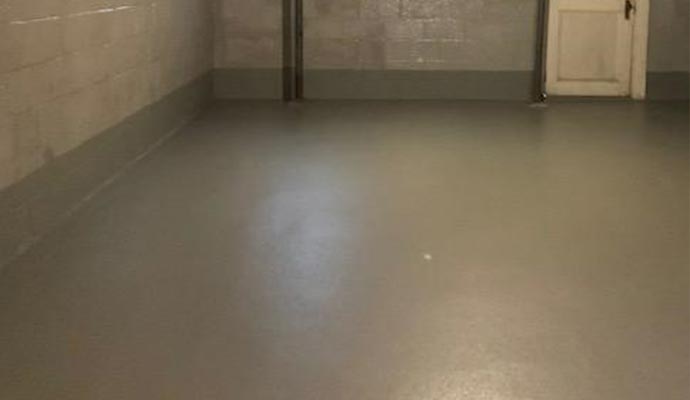 Protection against peeling & lifting

Regular floor paint can peel and lift. Over time, these patches become unsightly and even dangerous. With epoxy, the hardened coating is bonded to the floor in your garage, meaning that it will stay down.

Impact resistance

Epoxy cures to a hard and thick finish. This makes it resistant to impacts, as well as chemicals and surface abrasion. So, you can drag a toolbox across without worrying about leaving marks. No need to worry about damage if you accidentally spill chemicals, as well.

Better aesthetics

There are a number of colors and textures to choose from to fit every taste. Pick decorative chip finishes with the look of granite, slat,e or another surface. Or, you can choose from a range of solids, with every shade from neutral sand beige to arresting blue, green, or yellow. The fresh look makes the entire area look put together and pleasant.

Covering cracks and flaws

You can fill and repair cracks and flaws in a garage floor. However, with many methods, they'll just come back again, worse than ever. An epoxy coating is thick and solid enough to completely fill and eliminate them. Our skilled technicians can properly prep your floor before applying to coat so that all cracks and flaws are handled.

Easy to clean

No more struggling with stubborn garage floor stains. When you have epoxy- oil, grime, and other materials lift up quickly and easily. Epoxy floors are resistant to moisture, dust, dirt, and grime. Unlike bare cement, wetness and spills do not penetrate, causing stains.

Improved safety

When your garage floor gets wet from snow, rain, or spills, many coatings can leave the area slippery and dangerous. When having your epoxy garage floor installed, consider a non-slip finish. These additives can be used on your floor to ensure that it resists slips, even when water makes its way into your garage.
Why Choose My Foundation Repair Pros?
My Foundation Repair Pros has a team of local professionals with their own track record of successfully helping homeowners like you, make the foundation of your home dry and safe. We screen and provide professionals who specialize in foundation waterproofing, crawl space repair, crack repair, finishing, sump pumps, and other foundation issues. Whether you have a finished or unfinished foundation, we can provide the appropriate professional help in your area, to solve your problems. Contact us today or call us at 844-406-0505 to know further details.