Polyjacking Services near Me
Polyjacking is a process of concrete leveling that is designed for fixing uneven concrete surfaces by injecting material underneath the affected slab. My Foundation Repair Pros provides a superior service to typical residential and commercial polyjacking services near you.
Benefits of Polyjacking
Most settlement is caused by poor soil conditions, such as soil erosion and groundwater migration. If you have an uneven slab, the soil underneath has created voids and needs to be filled. This can be repaired with Poly Rise – Slab Lifting Technology. Poly Rise is the most effective concrete repair on today's market. The installation process uses high-density polyurethane foam to lift and stabilize sunken concrete slabs and for leveling concrete floors back to normal.
Years ago, it was used for commercial and industrial projects. Because of its unlimited benefits, today polyurethane concrete slab lifting is used for both commercial and residential projects. It can be applied to sidewalks, warehouses, courtyards, garage floors, basement floors, pool decks, porches, patios, concrete driveway repair, and much more.
Though Polyjacking or Poly Rise – Slab Lifting Technology is more expensive than mudjacking, it offers more benefits than other concrete slab leveling methods. Some benefits of polyurethane concrete raising include: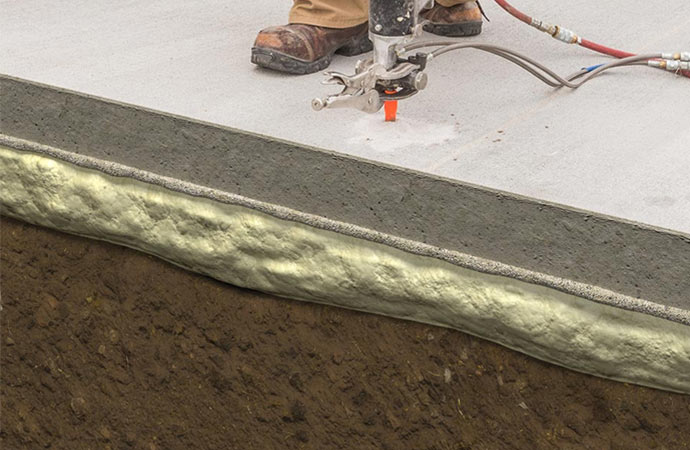 No excavation is needed
Seals cracks & joint
Cures in 15 minutes
Water-resistant
Never loses density or erodes
Same day use
Cheaper than concrete replacement
Extreme lifting capability
Will not shrink
Tensile strength
Will not burden soil
Prevents future settlement by fixing soil issues underneath the slab
Requires one poly truck and less manpower than mudjacking
If you need a concrete repair solution that is 1/2 the cost of concrete replacement, contact My Foundation Repair Pros for polyjacking in your area. We will perform concrete lifting with polyurethane and stabilize your sunken concrete for many years to come.
Find Your Local Foundation Repair Contractors
Why Choose My Foundation Repair Pros?
My Foundation Repair Pros has a team of local professionals with their own track record of successfully helping homeowners, like you, make the foundation of your home dry and safe. We screen and provide professionals who specialize in foundation waterproofing, crawl space repair, crack repair, finishing, sump pumps and other foundation issues. Whether you have a finished or unfinished foundation, we can provide the appropriate professional help in your area, to solve your problems. Contact us today or call us at 844-406-0505 to know further details.