Epoxy Sealing Services in My Location
If you're wanting that new flooring to last, you should consider sealing it with an epoxy floor coating that will wow your guests. Applying an epoxy coating to your concrete floor is a great way to increase its longevity and appearance. Whether you're looking for a way to make your home cleaner or are trying to impress prospective business clients, using this kind of concrete sealer can help.
No matter how big your flooring is, My Foundation Repair Pros is your go-to company for the most reliable epoxy sealing services.
Advantages of Epoxy Sealing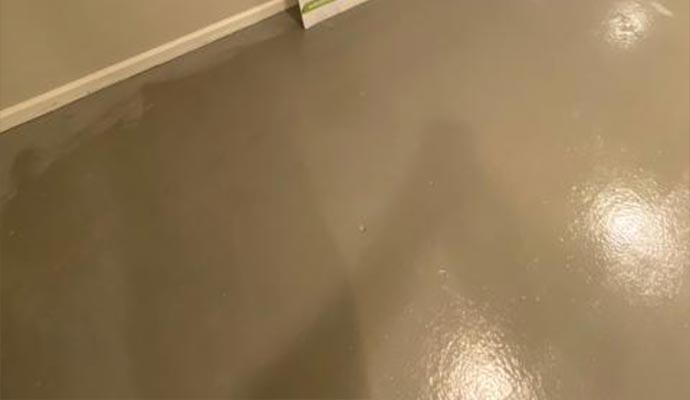 Bright

Using an epoxy floor coating on your new concrete floor is a great way to complement the overhead lighting. Epoxy sealers can come in a variety of colors and with different speckles in the liquid that can result in a shiny and glossy finish when it dries. A brighter area can make spills easier to spot, and is aesthetically pleasing to your guests. It's also a great way to disguise previous defects in the concrete or hide imperfections if your floor has been through some rough use over the years.

Clean

Epoxy sealers can prevent grease and oils from seeping into your floor. Concrete is porous and absorbs these liquids easily, which means that you could be left with large stains that are hard to remove. Spills on an epoxy floor are easy to clean up, and some sealants even come with antimicrobial properties that can help prevent the spread of mold and germs.

Long-Lasting

By preventing oils, grease, and water from seeping into the floor, you're preventing the concrete from developing cracks or crumbling in weak areas due to saturation. Epoxy floor sealing protects concrete floors by creating a membrane-like coating over the rough surface of the concrete. The unique chemical make-up of epoxy also makes it extremely durable and heat-resistant. So, if you're looking for a sealer that you won't have to worry about or have to maintain regularly, epoxy is the right choice for you.
Why Choose My Foundation Repair Pros?
My Foundation Repair Pros has a team of local professionals with their own track record of successfully helping homeowners like you, make the foundation of your home dry and safe. We screen and provide professionals who specialize in foundation waterproofing, crawl space repair, crack repair, finishing, sump pumps, and other foundation issues. Whether you have a finished or unfinished foundation, we can provide the appropriate professional help in your area, to solve your problems. Contact us today or call us at 844-406-0505 to know further details.