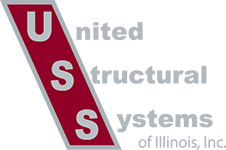 Structural Crack Repair in Chicagoland & Addison, IL
USS of Illinois is the recognized leader in the foundation repair industry, providing structural repair solutions for homes, commercial buildings, and municipalities that encounter vertical settlement or horizontal movement of foundations.
If you are looking for professional waterproofing companies or foundation experts, then USS has the team for you. Our basement waterproofers can identify water problems, assess water damage, address drainage issues, install sump pumps and crawl space encapsulation, or provide other basement waterproofing services. We are also the foundation repair company for you and can provide various types of foundation repair services: reparation of foundation cracks, wall bracing, and more.
We are a locally owned and operated structural repair and specialty foundation contractor that offers innovative and guaranteed repairs in the Chicago, IL area. Headquartered in Barrington, Illinois, we serve the entire Chicago metro area providing sound and sensible engineered solutions to your foundation and excess moisture problems.
Contact unitedstructuralsystems.com
Please fill out the below and we will contact you shortly.