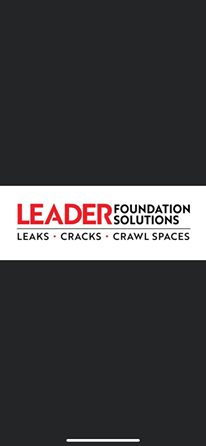 Leader Foundation Solutions
Leader Foundation Solutions are the Foundation Supportworks foundation contractors in central and western Massachusetts.
They are also proud to be a part of the Basement Systems Inc. worldwide network of waterproofing & crawl space dealers, offering free written estimates for foundation repair, basement waterproofing, and crawl space repair.
Leader Basement Systems, Foundation Repair Contractor in MassSupportworks is the leader in foundation repair technology, offering solutions to your foundation problems, once and for all!
Foundation settling and shifting can be caused by building a structure on expanding or contracting soil, improperly compacted fill soils, or from poor or erroneous maintenance of the earth around the foundation.
Whatever the cause of a settling foundation, this settlement can ruin a building's value and even render it unsafe or even unlivable!
If you've noticed signs of foundation problems such as drywall cracks, doors and windows that are hard to open or close, cracks in your foundation walls, cracks in floor slabs, or foundation cracks in Worcester and other MA areas, contact Leader Foundation Solutions today!
"Leader Foundation Solutions provides professional basement and foundation repair services to residents all throughout Western Massachusetts, including Worcester, Springfield, Chicopee, as well as Windham County in Connecticut. Specializing in basement waterproofing, crawl space repair, foundation repair, and basement finishing services. Call today for a FREE in-home estimate."
---
Customer Reviews for Leader Foundation Solutions
I'm so happy I called Leader Basement Systems. Craig Leader (owner) was booked a month and a half out for a free consult...
Contact Leader Foundation Solutions
Please fill out the below and we will contact you shortly.
Areas Served by Leader Foundation Solutions