Commercial Waterproofing Solutions
Water is the number one enemy of your foundation. You may think standing water can do no harm to your solid concrete or hard cement and feel that your building already has the appropriate measurements to deal with the issue. But it may not be the case. Water can penetrate through your commercial space's wall cracks or gaps and weaken its foundation very quickly.
If you are looking for waterproofing solutions done for your commercial space, then call My Foundation Repair Pros today at 844-406-0505. We have the best customer service team working, so your request for the best contractors for the job from your area will be executed as soon as possible.
Don't take waterproofing your commercial space lightly. This could lead to significant damage to your structure. Always take help professionals for such delicate jobs.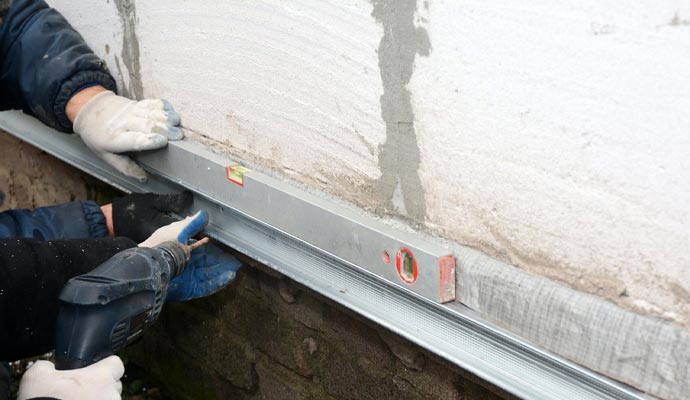 What can Water in Your Foundation Do?
Water in your structure can cause tremendous damage. Here are a few things you may face-
Mold and mildew may form in places where it is suitable for them
Significant damage in structural timers
Electrical or mechanical things may get affected—for example- lifts, HVAC etc.
The plasterboard ceiling may collapse.
Repair work is costly. So you will have to spend a lot on repairing your foundation.
Expensive and other belongings will be damaged.
Foundation will weaken.
Commercial Waterproofing Types
Here are some common types of commercial waterproofing nowadays-
Cementitious waterproofing- This type of waterproofing is done with the use of cement.
Liquid membrane waterproofing- This type consists of three layers of coating which provide great protection and is better than cement waterproofing.
Bituminous coating waterproofing- This is another popular choice of waterproofing is similar to liquid membrane waterproofing but the formulation is a little different.
Bituminous coating waterproofing- Traditional low sloped rooftops are given these types of waterproofing and it is not resistant to UV.
Polyurethane membrane waterproofing- This type of waterproofing is suitable for a variety of applications and offers a high degree of flexibility.
Contact Us for Commercial Waterproofing
We can provide you with efficient contractors for your waterproofing solutions and needs. They are all competent and trained in doing their job. Besides commercial waterproofing, we can send local contractors on your way for a commercial foundation inspection, foundation inspection, commercial solutions and many more services.
Don't forget to contact us today. You may get in touch with us online or dial 844-406-0505 to avail of the services you require.