Foundation Problem due to Silty Soil
Not every soil is suitable for building a foundation. Due to its long-term propensity to hold water, silt, like peat, is unsuitable soil for building a foundation. This property allows silt to move and expand, destabilizing the structure and putting it under repetitive, long-term stress. This can result in structural collapse or damage. Construction should be undertaken using a more suitable type of soil if possible.
When you want effective foundation repair services, contact the experts at Foundation Repair Pros. Because of their expertise and experience, they are the finest in the area. Find your local contractor here, or call us at 844-406-0505 for additional information!
Challenges with Silty Foundation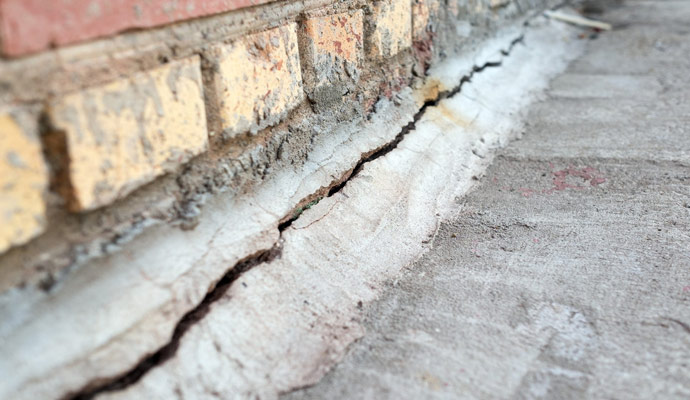 When the bulk of the silt particles is wider than the silt particle-size band, it might behave more like sand, making it a problematic soil to classify. More often than not, silt takes on a clay-like behavior, and silts and clays are frequently combined. The most difficult soils to build foundations are those with substantial volume percentages of silt and clay.
Silts are sometimes mistaken for clay due to their similar look to the naked eye, resulting in disaster. While some field tests can help distinguish clays from silts, a hydrometer test is frequently required to determine the particle size fraction of a silt clay adequately. Silts can consequently provide significant building issues, and their dilatancy makes them much more challenging.
Silt soils are difficult to drain because they tend to retain moisture. Silt soils are difficult to dewater, and high moisture silts tend to flow or run, often causing disastrous outcomes.
Find Your Local Foundation Repair Contractors
Count on the Experience of Foundation Repair Pros Contractors
Do you require assistance with foundation-related services for your building? Find a contractor in your area right now! Foundation Repair Pros' contractors are exceptional at what they do, so you won't have to worry about anything. For further information, call 844-406-0505. Click here to find your local contractors now. We also provide services for foundation repair due to poor drainage, sandy soil, moisture saturated soil, and many more!